People come from all over to recreate at Liberty Station, in part because pets are welcome.
Liberty Station is the perfect summer travel destination for the whole family, including four-legged people. Liberty Station has plenty of shops, restaurant patios, and expansive outdoor spaces that are pet-friendly and Fido-approved.
"Liberty Station has grown from a former naval training center to a place where friends and family gather to play, shop, eat and enjoy each other's company," said Laurie Albrecht, director of Liberty. Station. "As a community-centric destination, we provide intentional space and experiences for guests to include their furry family members as well."
Ask almost anyone who walks their dog in the old naval base, and you'll probably get the same answer from them about being pet friendly.
"A lot of stores allow pets," said Tiffany Feliciano, who was from National City with her dog Lola, on a sunny Saturday afternoon, Aug. 6. "I go to spin studio Sparkcycle regularly and they are pet friendly, as well as the cafe across the street, Moniker. It's a perfect example.
Do you often come here with Lola?
"Yeah, at least five times a week," Feliciano replied. "It's worth it. There's a place called Puppy Picnic Co. The owner is lovely. His dog is Lola's friend too. We love Liberty Station.
Dale and Dawn Frank from San Marcos made the trip to Liberty Station to see the art walk and brought their pooch, Oreo.
"Most, if not all, restaurants are dog-friendly," Dawn pointed out. "Those we met did. And they brought a little bowl of water for them.
"And the stores don't seem to care," Dale added.
Do you come here often? "It's really our first time with [Oreo]"Dawn said. "We walk him a lot, but not here," Dale said.
Your impression of Liberty Station as a destination for pets?
"It's a really nice place for a dog," Dale said. "If we lived closer, we wouldn't be here anymore."
"We came for the art and that's exactly what I said, 'We can take Oreo.' It's really nice here," Dawn noted.
"We've been coming here for years," said Bill Jones, who along with his wife Angela traveled from Chula Vista to Liberty Station to walk their two all-white Bichon Frize dogs. "We come here on weekends," Angela said. "A lot of stores allow pets."
I bet you don't let your dogs play in the mud. "We both walked through a puddle a few days ago, my mistake," Bill said.
You probably had to give them a bath right away.
"Me too," Bill joked.
The Martinezes came from the Temecula wine country with their dog Roscoe. Mark Martinez was impressed with all the green surroundings. "There are a lot of dogs here, you can just see everyone comes to play with their dogs," he said, adding, "It's not just here. Everywhere pets are now accepted – hotels and restaurants in all counties of San Diego, Riverside, Orange and LA.
Heather and Mike Long (who work at Peninsula Beacon) live nearby and often walk their dog Penny at Liberty Station.
"It's great to walk on grass or dirt or by the water," Heather said, adding, "It's a perfect place to launch a paddle board and paddle board with. your dog. There are plenty of pet-friendly restaurants for food, and she (Penny) has plenty of friends she can see each morning.
"Outing with your dog is one of the best things you can do for yourself and your pup, one being out on the water in the canal behind Liberty Station," said Samantha Eastburn, CEO/Founder of SUP Pups LLC. "The waterway is very calm and a no-wake zone making it very peaceful with hardly any boat traffic and amazing scenery. If you've never paddled your dog before, SUP Pups offers a unique lesson and one of a kind.It provides the owner and their dog with the knowledge and guidelines to go out together safely on the water.You can also take photos and videos all the time to capture their adventure.
Eastburn added: "Paddling your dog at Liberty Station is not only fun, but also mentally and physically beneficial for both man and dog. Then, once they gain confidence, you can keep getting back in the water by renting a paddle board or even a kayak. We've even started working with Puppy Picnic Co., where you can paddle with your dog followed by a picnic with your dog looking out at the water.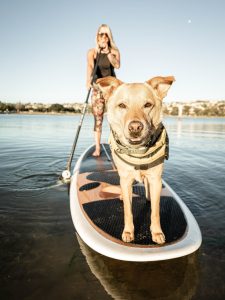 PET-FRIENDLY BUSINESSES
Le Presley: Dog and gluten-free.
Stone Brewing World Bistro & Gardens: Large patio and dog friendly. Treats are available for your pup.
Slater's 50/50: Dog friendly with a dog menu.
Puppy Picnic Co.: The pet shop offers stylish pet picnics that include chic table spaces, cozy throws, bohemian decor and a revamped photo booth in a van.
Liberty Public Marketplace: Lots to see and do that allows dogs
La Gare du Lot Liberté: Dog-friendly restaurant with indoor/outdoor spaces.
Fig Tree Cafe: Dog-friendly with food and service.
Bopjo: Dogs allowed.
Luna Grill San Diego: Outdoor seating and dog-friendly.
Officine Buona Forchetta: Open-air restaurant and dog-friendly.
Con Pane Rustic Bread & Cafe: Dog-friendly patio and indoor seating.
Ways to enjoy Liberty Station with a pup:
·Share a meal at one of the many indoor and outdoor pet-friendly restaurants.
Treat yourself to a glamorous pet picnic with Puppy Picnic Co.
· Stroll through the unique art exhibits and shops that line the nearly 100-year-old former naval base while showing off your dog to the many passers-by.
· Try stand-up paddleboarding with West Coast Paddleboard Rentalss and SUP Pups for a day on the water with equipment, life jackets and leashes provided.
·After a fun day exploring the food, drink and activities of the historic center, walk your pup along the path parallel to San Diego Bay or play in one of the parks.